Earlier this year, Khloé Kardashian revealed a dramatic new do — a trendy lob haircut that took her entire look to a new level. Turns out, the chic chop was actually an impulsive decision she made after visiting estranged husband Lamar Odom in the hospital. "I was like, 'I need to get rid of this negativity,'" she said on Live! With Kelly and Michael in January. "You shouldn't do haircuts when you're that emotionally confused but I did, and I love it, though! It's so much easier."
Turns out there's more to the story.

John Sciulli/Getty; Cindy Ord/Getty
In a new interview with PeopleStyle (on newsstands everywhere Friday!), the 31-year-old further explains everything leading up to her Most Intense Chop Ever. First, that it was an idea that's been in her head for years: "I thought I was gonna die if I got a trim cause I tried to grow my hair for so long," she tells us. "And then when I was in the hospital with Lamar, I swear it wasn't even emotional, I was just like, 'I am f—ing over this.' I didn't shower for like a week. The doctors were like, 'You have got to go home.' I remember calling [hairstylist] Jen [Atkin] and said, 'I'm going to be home for two hours. I'm showering, come over and cut my hair.'"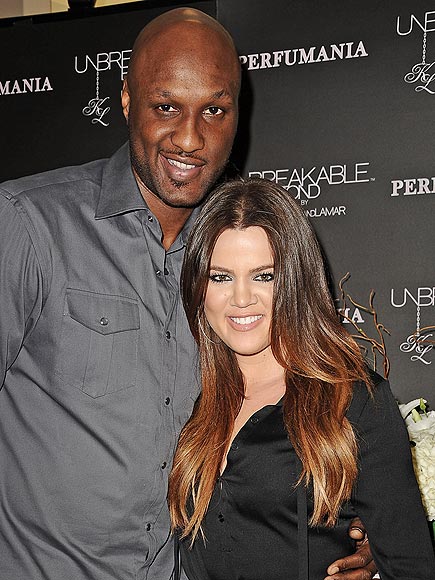 JASON LAVERIS/FILMMAGIC
RELATED PHOTOS: Khloe Kardashian's Unbelievable Hair Transformation
Kardashian says that her hairstyling pal insisted she was going to regret making such a rash decision. But the reality star would not let up. "I said, 'If you don't, I am doing it myself," she says. "She tried to talk me out of it, even though she tried to talk me into the haircut for years."
RELATED: Khloé Kardashian Puts Her Revenge Body on Display
Finally, Atkin gave in to Kardashian's demands. "I said, 'We can always put extensions in, right?'" says Kardashian. "So we cut it, and I haven't regretted it. There's times that I am like, 'Man, I miss my long hair.' Then I put some tape-in [extensions] in and I feel like I got my fix."
RELATED: Khloe Kardashian Weighs in on Lasering Your Lady Parts
RELATED VIDEO: Khloé Kardashian's Support for Lamar Odom, in Her Own Words

And she's still obsessed with her transformative look. "I love my short hair now," she shares. "I have always wanted to have short hair and I never thought I could. I just thought, that doesn't go with my face. But when I look at my old long hair, I'm like, 'Oh my God, it was so cheesy.' I am finally saying less is more. Who is this girl? That's weird. Where is Khloé and bring her back?!"
"Now, I just feel free, and very 30," she adds. "I also feel chic and not as cheesy — but I still love a cheesy moment sometimes."
For more on our exclusive interview with the star including her top beauty products, pick up the new issue of PEOPLE on newsstands everywhere Friday.
What do you think of Khloé's decision to go short? Share below!
–Reporting by Jackie Fields